Firing on all Cylinders!  Neutral Impact has made significant level progression in both crafting/gathering/battle classes, and NM skill proficiency despite the lack of enticing patch news for the upcoming April/May patch and ever growing content stagnancy.  Yet we and the FFXIV community as a whole still persevere in hopes that this will finally be the patch that instills some faith back in the community to help jump-start this game into what it should have been from the start - a masterpiece.
In the meantime, those of us still wanting to be ahead of the curve with battle classes have been leading consistent, and successful leve groups for cross class abilities and job main flexibility.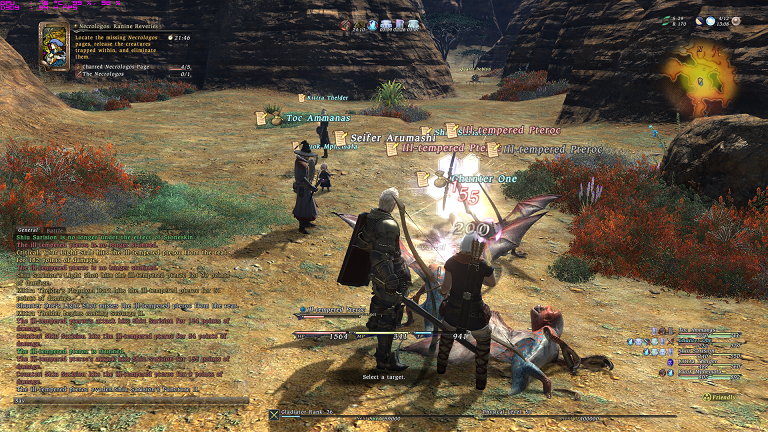 Our crafting juggernauts and up and coming craft enthusiasts have been working hard to reach personal as well as needed goals for both the future and present of the linkshells' infrastructure demands.  Shout out to Lux Aeterna! crafted some type of Pre-Relic monster! Congratulations on taking all my money :(.
And we have made great strides toward tweaking and mastering our current NM strategies as well as our group dynamics for battle regiment efficiency.  Dodore and Uraeus main focus at the moment.
What lies next on the horizon for FFXIV and Neutral Impact?  apparently clouds and hillsides in this picture, but lets pretend they are game content in landscape format!

Alot seems to be riding on this April/May patch anticipation, will our new dev team show us what made them so successful in FFXI?  Or will another wasted opportunity pass with a myriad of mediocre fixes and then follow-up patches to fix the things broken in the preceding patch /sigh.  FIX IT FIX IT FIX IT FIX IT FIX IT, FIX IT FIX IT!
{youtube}sgtNZsXDHBM{/youtube}